Market-leading industry standard
IngSoft EasyPipe
Receive comfortably by download
Creates trust through years of expertise
Offers diversity and flexibility by taking into account the latest regulations
Provides security through a comprehensive verification concept
Offers reliability through support team
Gives you time savings through fast and accurate calculations
Enables internationality through multilingual input and output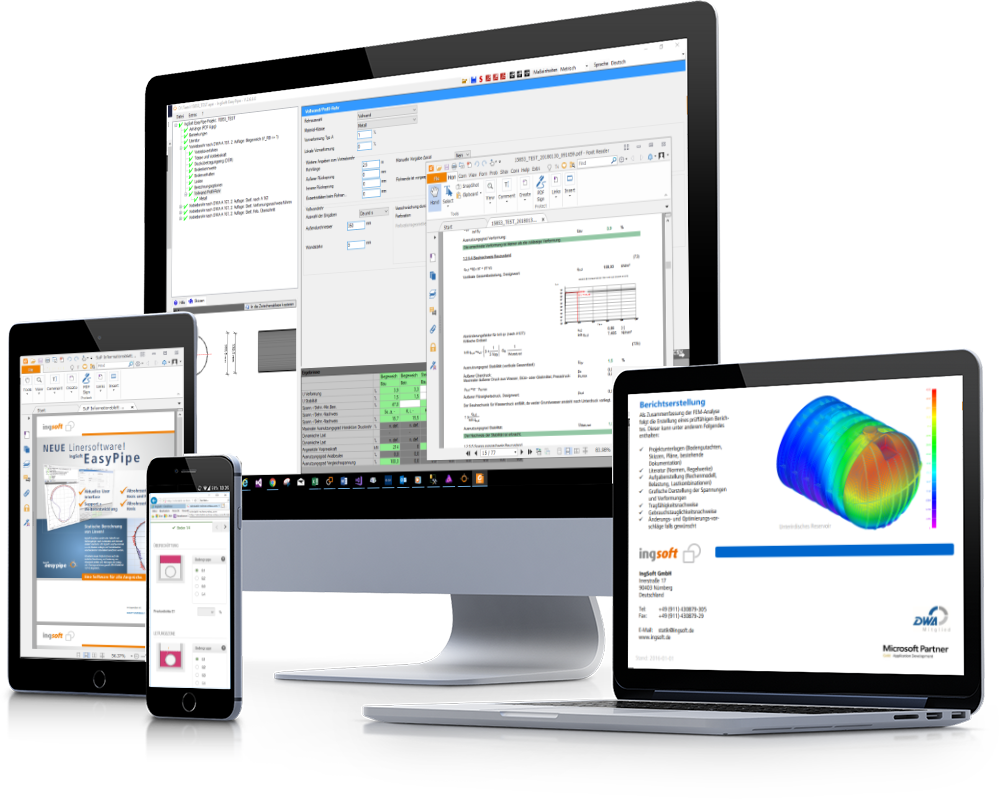 Your own static calculation with IngSoft EasyPipe allows you to neutrally and realistically assess project-specific framework conditions. With the help of IngSoft EasyPipe, you can see which parameters have an advantageous effect and which have a disadvantageous effect. In addition, you can determine which other materials can be used more cost-effectively.
IngSoft EasyPipe already supports you in the quotation phase with the realistic estimation of dimensions and material properties. Required reinforcements, desired nominal stiffness classes or wall thicknesses can be determined quickly, conveniently and accurately. You can carry out economic feasibility studies at an early stage. In this way, you benefit from minimal cost and material expenditure.
Contractors regularly submit proposed solutions that deviate from the specifications. A quick, rough check with the help of IngSoft EasyPipe helps you to assess these alternatives correctly and, if necessary, to identify risks at an early stage. Meaningful comparative calculations secure your approval.
Although - or precisely because? - we are at the forefront of the market, we offer our users customizations: You can extend IngSoft EasyPipe. For example, in the past we have provided especially small pipe diameters (20mm), additional verifications, supplementary sketches or a particularly compact printout for our customers. For more information, see job programming.
Here you can learn more about...